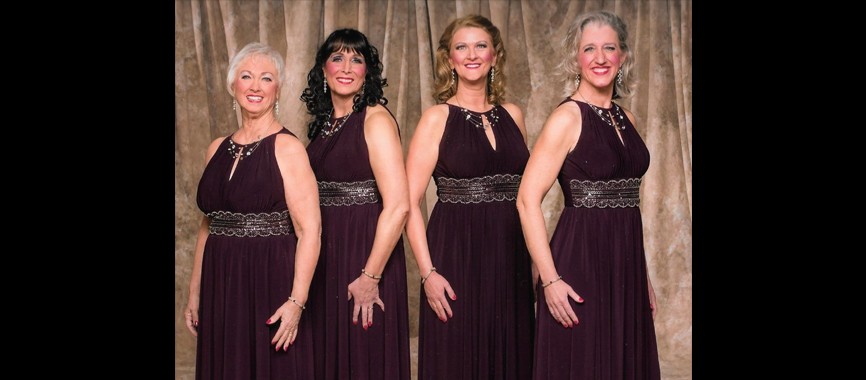 High Definition
HIGH DEFINITION QUARTET formed in 2008 and we continue to love singing a variety of musical genres, ranging from romantic ballads to upbeat swing tunes and holiday songs.  We enjoy singing at private celebration functions, fundraiser events, singing Valentines, and on chorus shows.  And, of course, we love sharing the fun and challenge of the Sweet Adeline competition stage with our sister quartets.  Thank you for allowing us to share our passion for a Cappella harmony singing with you, our audience.
Introducing…in our picture from left to right –
Carole - Bass; Kelly - Tenor; Pauline - Baritone and Aileen - lead
Each one of us brings a unique skill to our quartet, whether it be voice part, keeping us organized, music search, costuming, coaching, or scheduling our times together and (so far so good), we usually agree on the best approach or decision when the choice presents itself.  Though singing harmony is the passion we all share as individual singers, we have become good and trusting friends, gladly sharing the ups and downs of our lives, sighing or celebrating, and that is a very lovely side benefit of quartetting.  We would love to sing for you.  Contact:  [email protected]  to discuss your occasion or event entertainment.