2021-2022 News
Canadian Showtime sends two members to International Education Symposium
By:  Wendy Hall and Julie Sykes
One of the most wonderful things about Sweet Adelines is the focus on personal improvement and growth – both as singers and individuals. In late July, two members of Canadian Showtime Chorus (CSC) packed our bags and braved the airports to attend SAI's International Education Symposium in San Antonio, Texas. It was an exciting adventure and a tremendous learning experience for both of us!
Wendy: I was thrilled that IES this year offered several classes led by Kay Bromert, a Certified Master Arranger, that focused on Arranger training, including "The Alpha and Omega of Creative Arranging" (for Intros and Tags), and "Happiness is Solving that Tricky Passage", in which constructive comments & suggestions were offered to help us finesse our own works. 
As well, I was able to participate in the Symposium Chorus, led by Master Directors Dale Syverson & Lori Lyford. THAT was great fun! 6 hours of rehearsal to prepare & present 3 songs that started off the final celebrations of IES 2022 on Saturday evening, including choreography as taught by Judy Pozsgay and Kim Wonders! 
Julie:  The variety of course offerings at IES was truly impressive, and it was difficult to decide which ones I wanted to attend the most. The class delivered by Joan Boutilier on how to develop fun and creative rehearsal activities was particularly memorable (we all had the opportunity to create our own activities using rubber bands, strings, rubber duckies, and other random bobbles). I also really enjoyed the classes on unit sound and breathing/posture with Dale Syverson & Kim Vaughn, which offered a fresh approach to teaching some of the fundamentals. 
One of the highlights of my week was the Rising Star competition on Friday night. The winning quartet (Valkyries quartet) delivered an astounding performance, and it was great to see how far they have come since I first saw them perform in 2018. It's always exciting to see such talented young singers in the organization.
Both:  One other non-scheduled activity that we both enjoyed was "Tag-Singing in the Pool". This is a tradition at IES, and it certainly was a great way to practice breath support, especially for Wendy, who was singing while treading water in the deep end (Julie preferred to dip her toes from the poolside). 
We would both like to thank Canadian Showtime Chorus as well as Sing Canada for providing the financial means to take part in this fantastic experience. (If you haven't heard of Sing Canada, we encourage you to look them up!) We can hardly wait to share these newfound skills with our chorus when rehearsals resume in the fall!
Trust and Accept
You hear it often! Become a Sweet Adelines and you will never have to worry about being alone, out in the cold or in need of a place to sing – or a place to have Zoom meetings!!! 
In early June, my husband and I were making our way across Canada in our RV and had plans to stay in Edmonton for 5 days as I had Zoom IBOD meetings to attend. We booked a site at an RV park but expected we'd have to pivot to a hotel if WIFI wasn't reliable at the park! 
I happened to mention this to a fellow Sweet Adeline during Zoom meeting and she suggested I come visit Alberta Heartland Chorus when in town!  Because of IBOD meetings I said it was unlikely but that I would try!
No more than a week later, I received a warm email from Mary Teed. She was inviting me to come to hers for my afternoon meetings while in Edmonton. She works and I would have my privacy, she said, and it wouldn't be a bother, she said. Wow! Quite the offer!  I thanked her whole heartedly and said I would think about it and get back to her soon!
I hummed and I hawed and knowing I would happily do the same for a Sweet Adeline in need, I decided to take Mary up on her offer! She was going to be at work when I arrived so she sent me the front door code and told me to make myself at home!  I arrived to a "Welcome JD" sign on the door! OMGosh! I did not expect to find sticky notes at every turn showing me where to find things, a cozy wrap, cozy socks in case I got cold OR snacks! A whole selection of snacks! And a note telling me there was a fruit salad in the fridge for me too! What a welcome! 
On day one, my IBOD meetings ended at 4:15 and my Canadian Showtime Chorus Management Team meeting started at 4:30 so I didn't even get a chance to go upstairs and meet my hostess with the mostess before she left for her quartet practice. The next day when I arrived, she again had left for work so it is not until early evening on Thursday that we finally met! Of course, we immediately hit it off and could have talked all night if only she didn't have to head off to a music team meeting! Yes, Mary has a servant's heart and is involved in many aspects of Sweet Adelines International too!
Mary made my meetings stress free that week and I am eternally grateful! Take a chance - trust and accept kind and generous offers. I found a kindred spirit and have made a friend for life! I've said it before and I say it again, I love, love, love my hobby!!
JD Crowe
Proud and grateful Sweet Adeline!
Distance Singing!
My name is Melissa and I am a proud member of the Canadian Showtime Chorus (CSC). I am an 11-year member in Region 2 with the "Festival Sounds Chorus" out of Stratford, Ontario, and now a 1-year Region 16 member!
Singing with CSC has been a joy and a delight! One of the best decisions I have ever made! During the COVID-19 pandemic I found CSC when they offered an experience of a life time - a Christmas Virtual Greeting card. Sweet Adelines and others from all over the world tuned in to learn from Joe Connelly and sing with the CSC chorus. I fell in LOVE with chorus and when their new member program opened up a month later I anxiously sent in my audition track. I have been a Sweet Adeline in my home chapter for 10 years, but something about auditioning for a new chorus causes anxiety! Well I passed the first round of auditions and was invited to join the new members program. I was given a song to learn and a visual plan! I work on them for a few weeks (learning a visual plan via YouTube videos is certainly much more difficult than learning it in person). Then came the final audition … first I was put in a room with the FAB4 and Joe for the vocal audition where I sang in quartet with Tim Warwick (a recording of course), then I was zoomed to another room where I performed the visual plan that I worked so hard to learn! Then I joined in on the regular rehearsal where I waited anxiously all evening to find out if I passed my audition. I was the last to be announced and I was elated when they called my name and welcomed me into the fold!
I continue to attend all the zoom rehearsals until we took a short summer break and then finally, when we resumed rehearsals in August we were able to meet safely outside IN PERSON! I packed up my car and drove 6.5 hours to my first in-person rehearsal with CSC. There was no turning back. For 3 weeks I made the 6.5 trek to sing in person! Then work started and I had to resume virtually. This hasn't stopped me as each week I join rehearsal via Facebook Live and continue to drive to Ottawa from Stratford for rehearsals and coaching whenever I can!
Joining CSC has provided me with so many amazing opportunities. I have learned from our FAB4 and Joe each and every week. Plus I have had 2 virtual PVIs with Tim Warwick and 1 PVP with Erin Howden. I have proven to myself that I can in fact drive on the 401 all the way to Ottawa and I have made some amazing new friends! I have also made history with CSC when we recorded and submitted our video recording for regional contest and we won first place Division AA and first place over all.
I love that technology allows me to be a part of the CSC family!!! Although I wish that I could be there each week in person, I'm just so glad that I have a way to tune in each week so that I can have my bucket filled. I can't wait to go to Kentucky in 2023!
by Melissa Wright
A Place to Belong
When I made the decision to leave Canadian Showtime Chorus (CSC) almost eight years ago to pursue community theatre opportunities and to focus on my career, I knew that it would only be a matter of time before I would be back. 
I started to feel the pull to return to Sweet Adelines in the summer of 2021, at peak height of "pandemic life". I was feeling creatively stifled and wanted to find a way to express myself and be amongst a supportive group that I could connect with and learn from. It was also very important to me that the values of diversity and inclusion were a key part of whatever group I joined.
The past two years have been exceptionally difficult for so many, but especially for those from equity-seeking groups who have always faced additional barriers. The murder of George Floyd in the summer of 2020 forced us all to start looking at ways in which inequities are stacked against racialized and BIPOC folks, those from the LGBTQ+ community, and people with disabilities, among others. 
As I started to look into returning to the chorus, I was delighted to see the work that Sweet Adelines International was doing to address these issues – things like revising marketing materials to be more inclusive, recognizing the role that Black folks play in the history of Barbershop harmony, taking accountability for harm done in the past, and prohibiting songs that are inherently racist or offensive. I felt confident aligning myself with an organization that was "doing the work".
Once I made the decision to return to CSC last fall, I was admittedly nervous. How would those in the chorus feel about it, and would I still be welcomed after previously leaving? My fears were immediately quelled when I walked into the rehearsal hall as a prospective new member all over again, almost as though I had never left. It was an emotional moment to have all my past friends and chorus mates greet me with warm words and smiles – one which solidified that I had certainly made the right decision to return. 
While our work in the diversity and inclusion space will continue to be ongoing, I am so proud to be a part of a group that values diverse perspectives, supports inclusion, and most of all, welcomes everyone (back) with open arms. So lucky to be CSC!
By Melinda Hudson-Pelletier
Backyard Singers
What do you do when the world is forced to a sudden stop?  You find a way to keep on singing!
In the Spring of 2020, three of us were determined to put some joy in our lives and to find a way to sing together. It began by driving in our respective cars to a sheltered spot behind the local Value Village where we could not be seen. We circled the "wagons", distanced very far apart and sang to keep our spirits up.
As time went by, more CSC singers got added to the group and we moved into the backyards of various members.  The Backyard Singers expanded to a group of 10 and we are still together singing in the pavilion at the local park.  Each week we watch the local weather forecast and try to pick the best days. We have seen beautiful days, extreme heat, rain, snow and everything in between.  The best value has been the social aspect.  Seeing each other's beautiful faces, chatting and sharing has been uplifting in tough times.  We even had a cookie exchange on December 17, 2020 in the snow.
Here is what the members had to say about our experience.
Sandie: What a pleasure it has been to sing outdoors with all of you wonderful ladies throughout the past 2 years - an amazing outlet to get through the pandemic fairly intact with the joy of singing and creating wonderful music together, learning and improving together and our continued friendship together, thank you!
Shirley: How fortunate I am to be able to sing with all of you! I've had lots of fun and kept up with the music. Thank you so much!
Carol R: Singing with friends from CSC gave me joy. It was the most beautiful thing to do being outside in fresh air and nature.
Carole G: Staying in touch with music and friends during the Pandemic ordeal gave me needed human contact, kept my singing skills mostly in place and made memories of Timbits and Hot Apple toddy in the snow with lots of much needed laughter!
Wendy: Whether the costume was Parkas & Toques, Raincoats & Umbrellas, or Sunglasses & Fans, we met outdoors in every season to raise our voices in song. It meant so much to connect with each other in person, in spirit, and in voice. 
Alynne: Such a wonderful way to keep our positive energy and motivation as we "zoomed" our way through the last two years.  That was a struggle and being able to get together in person and hear our octet make music was awesome!
Margaret: Singing together with the Backyard Singers through the pandemic kept the beauty and joy of music alive in my life, as did the cheerful friends there, not only to carry the melodies but also to give the support we all needed to make it through a challenging time.
Susan: Singing with Nancy and Wendy and then the rest of the Backyard Singers during the pandemic was like being showered with sunshine in the midst of darkness. Even in the snow and cold weather we sang, talked, laughed and went home feeling able to face whatever came next.
Author: At a time that the world had gone crazy, the singing and socializing kept me sane and lifted my spirits.  So happy to see those smiling faces!
Nancy Lambrechts April 2022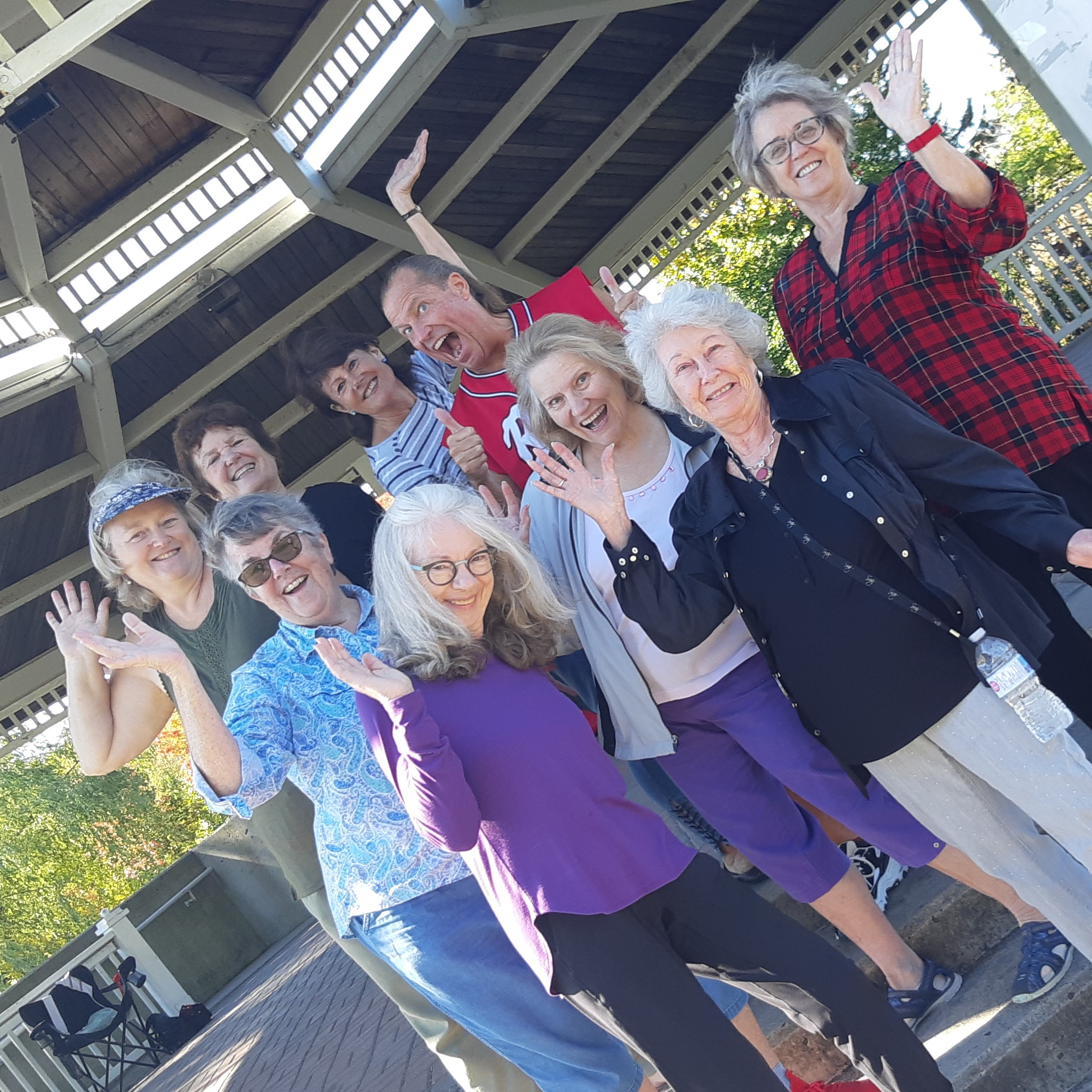 Coaching Weekend with Erin Howden March 2022
As I entered the rehearsal hall, I felt a burst of happiness in my heart. The risers were up! At the Canadian Showtime Chorus retreat on March 11 and 12, 2022 the chorus stood on risers for the first time in two years. Masks notwithstanding, It felt amazing to be there, and especially great that we got to share that special moment with our Coach Erin Howden. It seemed like Erin was pretty pumped to be coaching real people standing on risers as well. I think I can speak for all of us when I say it felt like coming home.
Thanks to the great work of our dedicated music and choreography teams, we were ready for coaching on the contest package. Given the last six months, that is quite a substantive accomplishment! Recently our first in-person rehearsal since early December had to be cancelled due to a winter storm (hey, it's Ottawa) but the teams pivoted expertly and we had yet another worthwhile virtual rehearsal. 
Canadian Showtime Chorus has had twelve new members join since the start of the pandemic. For many of these folks last weekend was their very first time on risers after being chorus members for over a year! Just imagine that! We are all looking forward to donning our sequins and performing for the virtual Region 16 contest in May.  
One of Erin's many nuggets of wisdom from the weekend was that who we are as a chorus and as individuals is all about choice: we can choose to be present and engage our skills every time we sing, every time we attend a zoom rehearsal, every time we learn, every time we stand on the risers. As a person who moved to the other side of the province during covid I've had the privilege of experiencing how two different choruses operated during the pandemic. Clearly Region 16 has chosen growth and positivity in the face of challenge, in no small part due to fantastic leadership from people like Erin Howden, Joe Connelly and Barbara Hodge, and we can all be proud to be part of this organization.
by Leslie Hoyle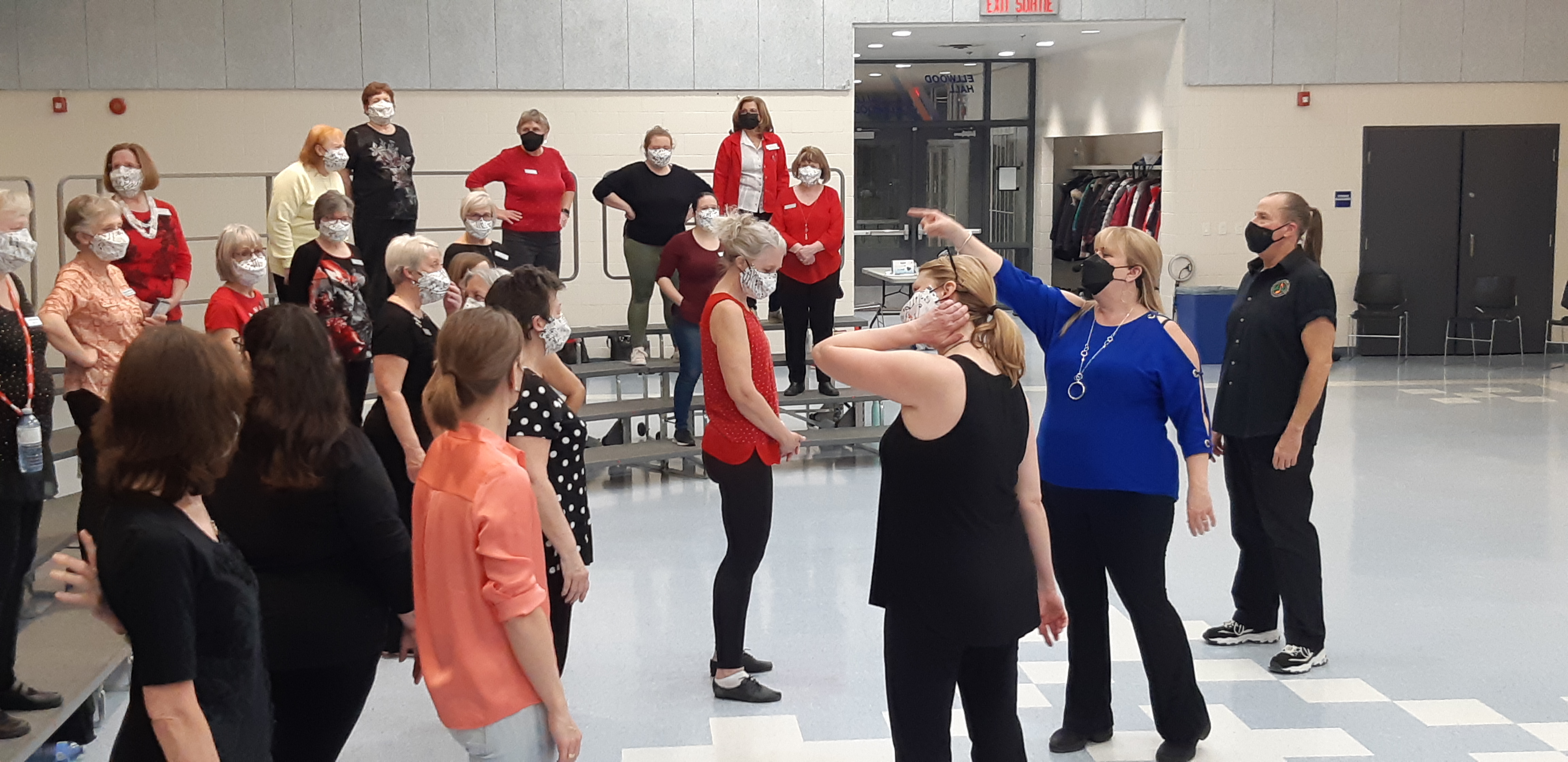 Nicky's Notes
Full steam ahead…we feel like we are in the driver's seat again and that feels GREAT!! Back to in-person rehearsals since August (with 7 outdoor and 4 indoor rehearsals under our belts up to the end of October) and making beautiful chords ring!  Of course, all rehearsals are fully masked, distanced and take all the precautions we need to make sure everyone is and feels safe and comfortable! Thanks to our amazing Director Joe and Management Team for making that happen.
We've had a busy couple of months.  Once again, each of our members had the opportunity to coach virtually with the amazing Tim Waurick, one on one, in October! Just imagine having, arguably, one of the best tenors on the globe, present you with helpful tips and insights about your voice! A++.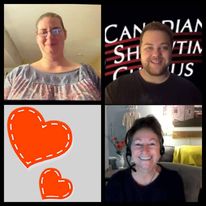 Our super money-making team were at it again in October bringing us another successful meat sale.  Our members sold a total of 419 boxes – keeping everyone fed and supporting our coaching and other events = win win!
We had some Halloween fun putting on our glam-witchy looks on and providing a performance run through of Witchcraft to be part of Suzart Productions virtual Halloween Revue.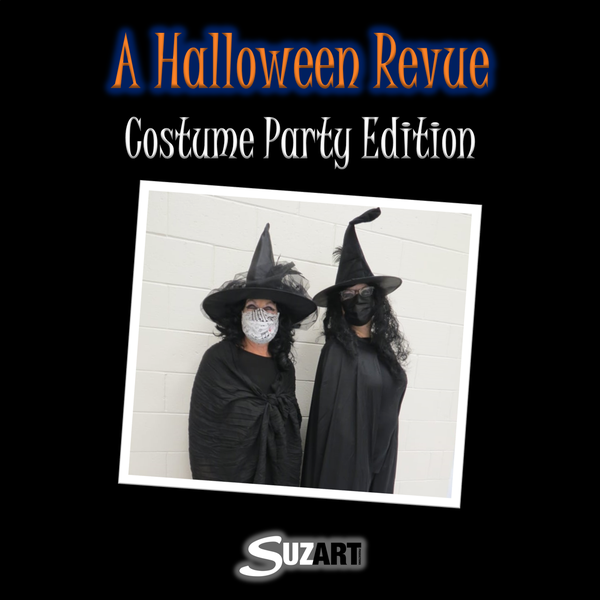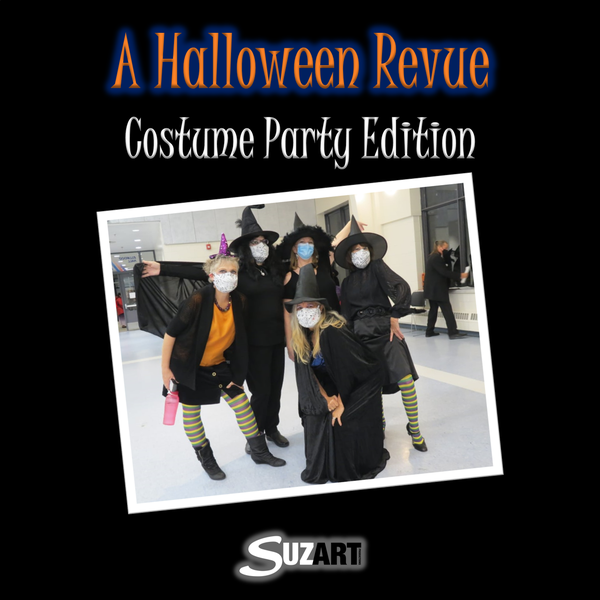 Speaking of fun, Canadian Showtime is now on TikTok under the handle @acapellabella and we'd love for you all to follow our journey.  Give us a follow…
We are ever so grateful to our friends Erin Howden, North Metro Chorus, and the Region 16 team for keeping us connected and filled with love and light.  Many of our members enjoyed joining the fun of the Fall Fling that happened on October 27th – a great big thank you to the organizers.
Are you looking for another fun party?? Canadian Showtime Chorus is inviting all our Region 16 friends to join us for our birthday charter party virtually.  All are invited for a fun evening of celebration and song – It's happening on the evening of Tuesday, January 11th, 2022– like all parties, we'd love to know who's coming – please RSVP here.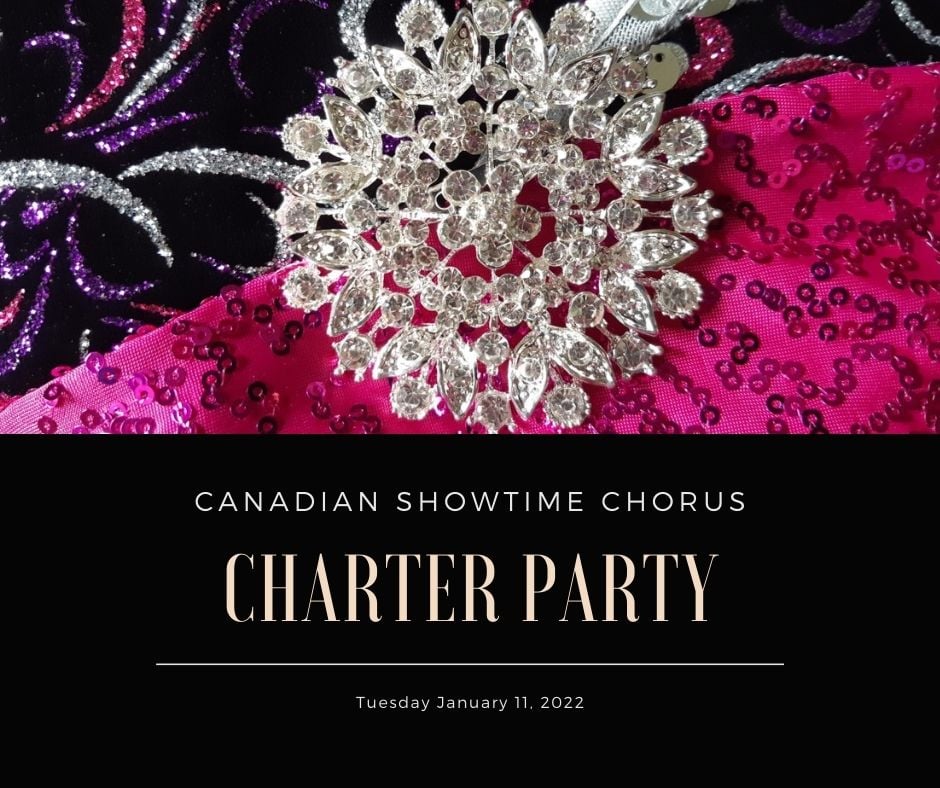 Singing, signing off and sending much love to our Region 16 family of friends! xo
Nicole Wieczorek