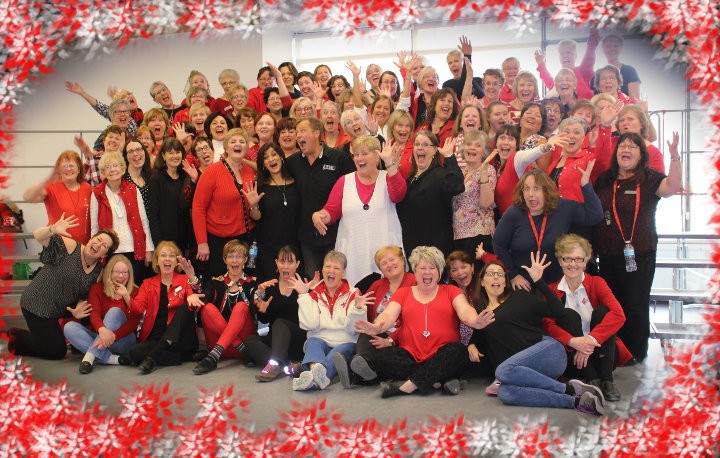 April 1st – No Foolin'!! (02-Apr-2017)
It's been an exciting couple of weeks for many regions as they have reached their destination and put many months of hard work on the contest stage to be judged and for all to see via webcast. Sweet Adelines International Regions 9, 10, 11, 14 and 25 opened the 2017 Regional contest season the past two weekends with amazing and impressive results. What a kickoff!!
Canadian Showtime Chorus will be on the road to our Region 16 contest in Syracuse NY, May 4 – 7, 2017. That's a mere 5 home rehearsals away! We've been working hard and smart – changing ballads along the way – changing the rhythm of our uptune - and despite a less than cooperative Mother Nature this winter, with every passing Tuesday night, we've walked away feeling more and more confident and prepared for our evaluation performance in May! Steady progress – well on track!
But you know how it is ladies – you arrive at your regular rehearsal or a weeknight coaching session after a long day at work and it takes a bit of time to shake the day off and get into singer and performer mode! Right? Energetic physical warm-ups, expertly led vocal warm-ups and a thoughtful and productive rehearsal plan certainly helps to get you there but let us throw in the talented, energetic, hilarious and entertaining storyteller Joe Connolly to the mix and watch how fast you become "all in"!!
We spent Friday night and all day Saturday in the presence of this incredible talent. He had us in stitches from the get-go as he regaled us with a border-crossing story like none other. He threw analogies at us that made us think differently; new catch phrases to help us produce the desired sound; embellishments to bring this new ballad alive and a secret weapon to make this old uptune friend even more exciting than before! He made us laugh, he made us sweat, he made us work, he made us better. With every visit – 12 of them now he tells us – our relationship blossoms and the level of trust between us grows. He calls us his sisters – he is our brother! The chemistry between him and Sandie is amazing and so much fun to watch – they complement one another – they bring the best out of one another and most certainly the best out of us! And we love them for it!!
We couldn't resist playing a little April Fool's day trick on our director to start off our Saturday morning. The plan was to be performance-ready when she started directing us, opening our mouths but allowing no sound out! We had a few false starts with her which made us all laugh and actually set up our joke even better! You should have seen the expression on her face when not once but twice we emit no sound when directed to start singing!!! LOL!! We all had a great laugh but she's put us on notice; when we least expect it, she WILL get us back!!
Our competing quartets – all four of them!! – coached with Joe this weekend too. Their dedication and hard work is inspiring! So very proud of them and can't wait to cheer them all on at contest in May!!
Regional contest 2017 is an evaluation performance for Canadian Showtime Chorus this year as we prepare for international competition in Las Vegas in October 2017. It will be our last International with our director Sandie Nason as she retires next spring! So brace yourself world – we plan to make this the biggest and best experience of our Master Director 700's career. This journey is laced with love and heart – a potent potion sure to bring magical results!
Can't stop this feeling!! Xo
JD Crowe
CSC Blogger