Destination NOLA (11-Sep-2019)
Like many choruses all over the world, last night was CSC's last home rehearsal before traveling to New Orleans next week to represent Lake Ontario Region 16 on the Sweet Adelines International stage! Sadly, we were down a few singers due to throat/laryngitis type bugs but better this week than next, right! And better to keep those germs in quarantine! Love yas and all but ….
After an incredible coaching weekend and the rush of having a highly engaged and enthusiastic family and friends crowd cheering us on at our send-off performance on Saturday, it was great to see so many guests in the rehearsal hall again tonight! It was like a mini family & friends' night! Thanks for dropping in, your ongoing support is helping to keep the adrenaline flowing!!  Loving this high!!
The feel in the room was electric and everyone was keen to continue with the work at hand. The riser team set up the risers early; the front row took advantage of the set-up first and continued to work their patterns and fine-tuning the little nuances that will bring the character alive! The riser singers were up next, concentrating on transitions and the big picture! Following vocal warm-up, Joe led set run-throughs and reminded us of Erin gems from our coaching weekend!!
Loads of logistics reminders during business. Everyone was encouraged to download the Sweet Adelines App on their phone – it contains Notes Before You Go, the Convention Program and schedule of events, a webcast link and a tab for contest results once available.  The evening was filled with positive talk, bonding and celebrating! Our Membership Ambassador, Kelly, invited our international stage first timers - as well as those performing in the front row for the first time  "at the big dance" as Joe would call it and gave them NOLA beads to mark the occasion!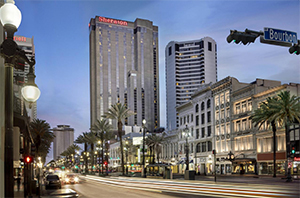 Then came the swag, mementos and treats!! Our Marketing Team distributed our new logo gear; we received fun string bags from Lake Ontario Region 16; Annie made us our traditional good luck charms to pin invisibly and link us together on stage and Wendy handed out goodie bags filled with treats, a pin and a fan!! So much love!!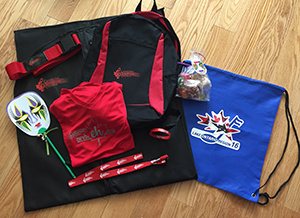 Today the traveling to New Orleans begins for some as they are driving. Most will travel over the weekend and our schoolteachers will arrive mid-week! We are ready for this and anxiously wait for the first time we will be all together in our home away from home at the Sheraton on Canal Street! Laissez les bons temps rouler!
If in New Orleans, come to the Lake Ontario Region 16 pep rally and celebrate with us, Limestone City Voices (competing in the Harmony Classic on Tuesday) and S.L.A.M. (competing in the quartet contest on Wednesday). It's all happening on Monday, September 16 from 9:00 to 10:00 p.m., Sheraton Hotel, Napoleon Room D1, D2, D3!
If not in New Orleans, catch us on the webcast at www.sweetadswebcast.com.
Thursday, September 19, 2019
Stage time 7:21 p.m. (New Orleans time)
The audience is buzzing with energy – it's a great audience – CSC is in the warm-up room – intros and tags – stretch – focus – keep the energy going! Line-up in designated pairs – squeeze hands – winks – smile – we're ready! It's time! The chorus leaves the warm-up room in pairs – the excitement builds – the ramp snakes up behind the stage – we can hear contestant 30 singing – wow – we're next. We've got this!! Curtain opens, lights are dim – wow – what a crowd – walk on – load risers – Joe pep talk – taps front row – peel back from middle. Joe cues emcee – wait for judges to finish writing up previous competitor! Podium light comes on – emcee Pam Pieson comes out …..
We are ready for our next contestant!!
Contestant 31, Representing Region 16
From Ottawa, Ontario, Canada
Under the direction of Joe Connelly
Canadian Showtime Chorus !!!!!
Oh ya baby! We are ready for this!! Enjoy the show!! We sure will!!