2020-2021 News
Intergenerational Day 2021!
Mayor Jim Watson declared June 1 2021 Intergenerational Day for the City of Ottawa. 
Our chorus is so pleased to release the result of our virtual collaboration with OrKidstra and with the support and vision of iGenOttawa.  The song, I'd Like to Teach the World to Sing, is a message from the generations for hope and music and peace throughout the land! 
Let's go on a musical and visual journey together.  Here is the link to our story. 
I'd Like to Teach the World to Sing - Celebrating Intergenerational Day 2021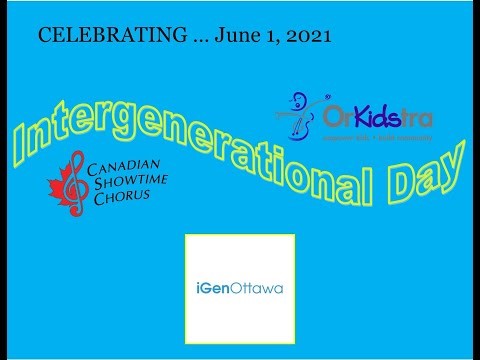 When life gives you lemons........Canadian Showtime Chorus gets Creative!
The past year has been a rough go for vocal and performing arts groups all over the world.  We certainly miss the joy of singing together in our hall and hearing those chords ring! 
Rather than being defeated, the past year has been one of many triumphant firsts! 
Weekly Zoom rehearsals keep us together and we have not had to cancel due to weather.  Bonus! 

We get to work with our wonderful director Joe Connellly although he is far away from us. 

We have learned lots of new music!

Erin Howden taught our Visual Design Team a complete plan virtually! In turn our team is teaching us the plan!! 

We collaborated to create, produce and distribute a singing greeting card for the Holiday Season!

Our virtual Chorus Holiday Party was an Absolute Blast!!! 

CSC has had a very successful New Members Program. 

Our Visual Design Team has created a new plan for our new song and we are learning it! 

There have been several very successful Fundraising events. 

Our Sweet Adeline of the Year, Nicky, and her husband have been hosting Bingo and Trivia nights.  A great social event and diversion from the everyday!
We are all looking forward to the day that we are back on the risers to make music together and to enjoy the community that is Canadian Showtime Chorus. 
If you would like to join a virtual rehearsal and see what this is all about, please send an email to sing@canadianshowtimechorus.com 
Singing Greeting Card
Before the holiday season, Canadian Showtime Chorus members were joined by many Holiday Chorus singers, representing women with a love of song from around the world, to create this singing greeting card. They responded to our call to participate in a virtual chorus to celebrate the season in song and to enjoy a true sense of community.
Although 2021 has begun, please continue to enjoy our Singing Greeting card and feel free to share it with all your Friends on Social Media.