Highlights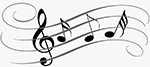 Our Join Us Program runs for 6 consecutive Tuesdays - 6:30 til 10pm.  Bring your best voice & see if it's you!!
For more information., see our Join Us page. 
---
Annual Holiday Gala & Fundraiser
Sunday December 1, 2019 ~ 6:30 pm-1:00 am
Kick off the Holiday season with Canadian Showtime Chorus.  An annual event not to be missed! 
Click here to go to Eventbrite for Ticket Purchases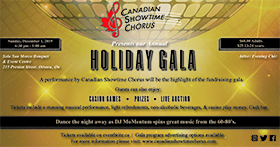 Sala San Marco Event & Conference Centre, 215 Preston St. Ottawa (map)
Tickets: $60, 25 yrs & under $25 through a chorus member or Eventbrite
Mark your calendar for December 1 at 6:30pm!  Delight in a festive evening, with a featured performance by Canadian Showtime Chorus, under the direction of Joe Connelly. 
Enjoy casino games, draw prizes and a live auction. Light refreshments served. Complimentary non-alcoholic beverage. Cash bar (ID required).  
Round out the evening with music from the 60s through 80s at a video dance party with DJ Momentum. 
Advertising options available: [email protected]canadianshowtimechorus.com
---
Upcoming Events
Dec 1 2019 - 6:30pm

to

Dec 2 2019 - 1:00am
Annual Holiday Gala & Fundraiser  Sunday December 1, 2019 - 6:30 pm-1:00 am Sala San Marco... more