Highlights
We'll be in New Orleans for our regular Tuesday September 17th rehearsal and on our way home Tuesday September 24th. If you are planning to come and see us, we'll be back at rehearsal Tuesday September 31st, 7pm!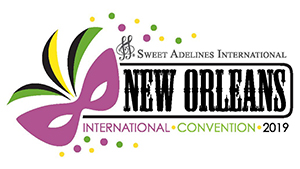 Join us in the Big Easy!
Just click on the New Orleans logo above
Can't make it to New Orleans to hear us live September 19th?  The next best thing is to dial into the live webcast and hear Canadian Showtime as we compete against the best barbershop choruses on the globe!  Our Stage Time is  7:21 p.m. CDT (8:21 EDT)
We may not be able to hear you through the webcast, but your support will do magical things and encourage our harmonious set from start to finish. 
More info here: https://sweetadelines.com/neworleans/webcast
---
We love to sing the Canadian anthem and do so proudly! 
If you love Ottawa sports, you will love our Canadian anthem versions even more!
Saturday September 28, 2019    4pm
Vs Edmonton Eskimos (and the return of Trevor Harris!)
TD Place 
O Canada!  O Canada! Hut-Hut!
Canadian Showtime Chorus opens this CFL game for #RNation that sees the return of Trevor Harris, the RedBlacks 2018 QB and CFL playoffs 6 touchdown record holder, back to his old stomping ground in Ottawa.  Canadian Showtime Chorus fans can enjoy special anthem ticket prices by contacting us by email or @CanadianShowtimeChorus
Upcoming Events
Oct 8 2019 -

7:00pm

to

10:00pm
JOIN US PROGRAM  runs for 6 consecutive Tuesdays.  Bring your best voice & see if it's you!!... more
Nov 1 2019 -

7:00pm

to

10:00pm
Come join us and sing along! Click here to go to Eventbrite for Ticket Purchases
Dec 1 2019 - 6:30pm

to

Dec 2 2019 - 1:00am
  Sunday December 1, 2019 6:30 pm-1:00 am Sala San Marco Event & Conference Centre, 215... more