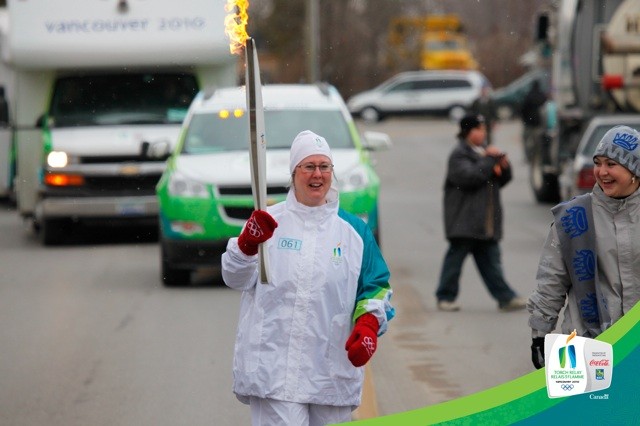 Our Olympic Torchbearer - Believe
Grace Kelly-Dresch of Canadian Showtime Chorus (Region #16) was honoured to represent the Royal Canadian Mint in the Olympic Torch Relay on December 21, 2009 in Welland, Ontario Canada. Grace was the first name drawn, of ten, at the Mint's corporate meeting in March 2009. Employees were asked to submit a completed questionnaire pledging how they would make Canada a better place. Grace vowed to dedicate more time to volunteering at the Ottawa food bank. 
On an overcast, mild winter's day at 11:48 a.m. in Welland, Ontario, wearing the official Olympic garb, joined by family members Chrisanne and Peter Caletti and husband Paul, Grace eagerly anticipated the official Olympic torch hand-off. Her brother, Sean Kelly, a radio personality from Belleville, Ontario, connected with Grace via cellular phone to hear the excitement in her voice before and immediately following her 300 metre run.
The crowds cheered enthusiastically as Grace embraced the moment with great pride and appreciation. She connected with an elderly gentleman along the way and was touched to see his emotional response to this lifelong dream of his. Carrying the Olympic torch was an opportunity of a lifetime and one which Grace will cherish forever.
"The torch relay touched so many communities along the way and you could feel the pride of each Canadian that I met in such a short period of time. We are proud of our athletes who endure to reach the International stage to put their best foot forward. Go Canada go!" (Grace Kelly-Dresch)
With glowing hearts, we followed Grace's journey and cheered her on. Canadian Showtime Chorus celebrated this momentous occasion with Grace upon her return to Ottawa. Dressed in red and white and waving flags and pompoms, CSC proudly posed with our Olympic torchbearer. We listened while she shared her stories and for awhile, we lived vicariously through her.
The Olympic torch is a powerful symbol of hope and peace. It unifies diverse nationalities and cultures into adopting this universal message. Like music, it brings us all together. For that one moment in time, we forget our differences, forgive our trespassers and BELIEVE! The love of the sport resides in all of our hearts and the passion of the performance prevails. All Olympians, and singers, understand the underlying and hopefully invisible technique and appreciate the artistry in each others' performances. Teamwork is tantamount to success and the body, mind, heart and spirit align to produce a magical experience for all!
By: Wendy Portacus
PR & Marketing Coordinator
Canandian Showtime Chorus