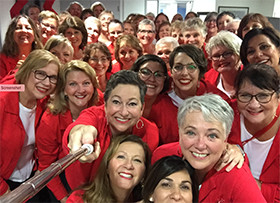 Canadian Showtime Chorus – Out and About Town! (02-Oct-2019)
Canadian Showtime Chorus – Out and About Town!
 Just on the heels of Sweet Adelines International competition in New Orleans, LA, a seasoning of CSC singers – that means approximately 40 of our 85 members, delivered a heartfelt rendition of our National Anthem, Oh Canada, to a sold out crowd at TD Football Stadium on Saturday, September 28, 2019, where the Ottawa Redblacks took on the Edmonton Eskimos! It rained through our soundcheck, but you know what they say – the game – and the show – must go on! Luckily it stopped for our moment in the spotlight! The game was televised in other parts of the country and it was fun to hear from relatives and friends that caught us live in other provinces! Of course, friends videotaped us from the crowd, and, with pride, we shared the clip on our chorus Facebook page! We received great feedback from the Redblacks management and got waves and enthusiastic applause from the audience as we walked off the field. We'd be thrilled for the opportunity to perform again at a future game so, go on Redblacks, just ask – we'll be there in a flash!!
Our PR Managers continue to work their magic in the community to elevate our profile and bring us to the forefront of the musical scene in Ottawa and make us a household name! Our PR media team were featured on Rogers TV Daytime show on Monday, September 30 with the primary purpose being to promote our upcoming New Member Program, our Bohemian Rhapsody Sing-along fundraiser, our Holiday Choir and our Gala Performance. This was a second appearance for this duo and the connection and relationship they are developing with Dylan Black is solid and he is keen to help promote and pitch us around town as he, himself, is a singer and is totally taken by our music and style!
Canadian Showtime has loads of fun events coming up!
New Member Program (Nepean Creative Arts Centre, 35 Stafford Road, Nepean)
Our 6-week program launches at our regular rehearsal hall from Tuesday, October 8, 2019 to November 12, 2019. Prospective new members are invited to show up at 6:30 pm starting October 8th with their singing experience, enthusiasm and willingness to embrace 4-part harmony acapella singing in the barbershop style. They are to come prepared to sing a song of their choice that will be used to voice place them! Will we find leads, baritones, basses or tenors? All four (4) we hope as we are looking to build and reinforce all voice parts! Where else can you get 6-weeks of free singing lessons while singing alongside world-class singers and under the direction of a gifted and musical mastermind! Give it a try!!
Bohemian Rhapsody Sing-along (Ottawa Family Cinemas, 710 Broadview Avenue, Ottawa)
 Who didn't love that movie? Who doesn't know pretty much every word to every song Queen ever put out! Who doesn't sing along to Bohemian Rhapsody, We Are the Champions, Radio Ga Ga and other greats when they play on the radio? Right? That's why our members, their family, friends - and we are hoping many new friends - are excited to join in the fun! Just follow the bouncing ball and sing along to Queen. No doubt, this will be a fun night to remember!! Join us!
(insert bohemian rhapsody photo)
 Holiday Chorus (Nepean Creative Arts Centre, 35 Stafford Road, Nepean)
 Chorus life is a commitment; it's hard work but we love our hobby and our art form so much that we can't resist sharing the experience with as many women as we can! To accommodate those who can't quite commit to the full membership experience at this time, we are inviting them to try out our New Member "LITE" Program that runs from November 5, 2019 to November 26, 2019 for four (4) consecutive Tuesday rehearsals. Four (4) free voice lessons that will culminate in their debut performance alongside the full Canadian Showtime Chorus at our December 1 GALA event! It's an opportunity not to be missed!! Are you in??
 Annual Holiday Gala & Fundraiser (Sunday, December 1, 2019, 6:30 p.m., Sala San Marco Event & Conference Centre)
This will be our second annual gala. There is something to be said for repeat events as it allows our followers to block the date in their busy calendars well in advance! We want people to say when invited to another event on the same date – "ah gosh, would have loved to go but December 1st is Canadian Showtime Chorus's annual Gala and we never miss it. It's a great time! Why don't you come along with us!!" Our inaugural Gala last year proved highly successful and we look forward to another sold out event this year. We invite our supporters to keep watching this spot for full details! Save the date! You won't regret it!!
What's Next?
As most other competing choruses in New Orleans, we took last week off. We all needed some down time to recover from the excitement of the event and recharge our batteries. Besides, many of our members were still vacationing in or around Louisiana!! Laissez les bons temps rouler!
Almost immediately following contest however our score sheets were posted to our members only page of the CSC website. The You-Tube link of our performance was immediately available on the Sweet Adelines International You-Tube channel! With both at our disposal, director Joe Connelly encouraged us to review our performance and review the score sheets for a group discussion last night!
 We arrived to rows and rows of chairs instead of the risers and our big screen and sound equipment was set up for viewing! Movie style!! We watched our performance twice and Joe turned to the singers for thoughts and feedback. How did the stage feel to you? How did you personally feel about your performance? What was your personal experience of our week culminating to the big dance on the international stage? There were many common themes, some different perspectives, some wee moments of disappointment complimented by a generous dose of pride in what we, together, put on stage! The score sheets made more sense following the viewing and we had a raw, heartfelt and honest discussion about what comes next. We have always had goals, plans and ambitions – that hasn't changed. We're in the early days of a beautiful relationship and we will keep nurturing it and find methods and approaches that work best for us. We are not flawed – we just learn and grow from our experiences! You could hear passion and excitement in the voices of all who spoke last night and that excites me! We cannot change our destination overnight, but we certainly can change our direction overnight and that is exactly what we are going to do! We're ready for it! It's a new beginning with hard work, personal commitment and grand and amazing things in our future.
 Yolanda Gail Devers is an American two-time Olympic champion in the 100 meters. She said:
"Keep your dreams alive. Understand to achieve anything requires faith and belief in yourself; vision, hard work, determination and dedication. Remember all things are possible for those who believe!"
 I BELIEVE!!
 JD Crowe
CSC Blogger